Travel Improves Your Health
We all "feel" better getting away on vacation. Did you know it really is not just your imagination? Science and statistics show it is true. Vacations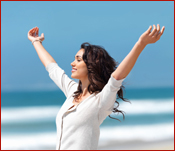 can reduce risk of heart disease, depression and even slow down the aging process. How about this statistic… Two vacations can cut your risk of heart attack by 50%.

Vacations help reduce stress, which will always help your health.
Here are some other tips to reduce stress during travel.
Get away long enough time to let go of your daily grind. A week is recommended.
Watch your time zones – too many time zones actually increase your stress on your body's natural rhythms.
Don't over schedule your trip – Make sure you have quiet time each day.
Be social – making new acquaintances has a restorative power.
Enjoy physical activity – moderate exercise like swimming and walking are great energy boosters.
How sad that a third or us do not use all our vacation days! Hopefully this will inspire you to take some time to better your health with travel.

Ready to research a trip?

Here is our network of travel destination sites for travel planning made easy!

Africa Tours | Alaska Tours | Antarctica Tours | Asia Tours | Atlas Cruises & Tours | Australia Tours | Canada Tours | Christmas Market Tours | England Tours | Escorted Family Vacations | Fall Foliage Tours | France Tours | Greece Tours | Hawaii Tours | Ireland Tours | Italy Tours | Luxury Tour | National Parks Tours | Oberammergau | River Cruise | Russia Tours | Scandinavia Tours | South America Tours | Spain Tours